Course details
☆ Birthday party ☆ All 5 items Birthday course 2570 yen ~ ♪ Cake shop's authentic handmade hole cake!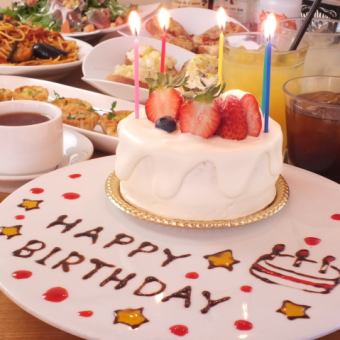 By using a coupon¥ 2570
※ 1 with drink (from selectable drinks)
Reservation deadline

Coming to a store until two days before 17 of the desired date
Available days for reservation

Monday - Sunday - Public holidays - Holidays
Special ceremony with homemade hall cake that can only be a cake shop ★ Because you can choose the main number for the number of people, you can share it with everyone ♪ I enjoy all kinds ♪ I will enjoy various things ♪ In the cute store girls' party and birthday party ... In relation to preparing the cake 2 It will be a reservation until 17 o'clock in the past day.
Course menu
◇ raw ham of Caesar salad
◎ love caesar salad luxurious raw ham ◎
◆ Kuara
◇ bucket pizza
Pizza also has two tastes
◆ Main is one type from three kinds of pasta
choice 1. Arthritis of eggplant · · · Tomato sauce with rich red pepper and garlic
choice 2. Crab tomato cream pasta · · · Mild tomato sauce is sticky with pasta ~!
choice 3. Carbonara · · · I love everyone! Boasting carbonara!
◆ Birthday specially made homemade hall cake ♪
Happy birthday cake!
Please leave cute deco & message ☆
※ reservation is required until 17 o'clock two days in advance
※ Hole cake of 12 cm is usually prepared.(4 people)
One drink from the choice of drink
Coupons that can be used with this course
2018/09/11 update